Other
Students from remote areas as well as the staff come to college by cycles and motor bikes. The college has a cycle stand beside the main building where the students are to keep their cycles and motor bikes. Students are, however, advised to keep their cycles or bikes under lock and key. The stand is run and maintained by the Students' Union of the college.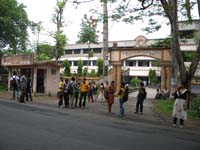 There is a bus stand in front of the college by the side of the main gate. It was constructed by the college under the direct supervision of the Students' Union.
The college provide general medical facilities to the students, faculties and office staff. A general physician visits the campus every week. A normal health check-up along with the provisions of basic medicines are facilitated by the Doctor. In case of any emergency, two local Govt. Hospitals (Habra & Ashoknagar State General Hospital) are communicated and they send their Ambulance Van.
The college provides 'Reprographic facilities' to the students and faculties. A heavy-duty copier machine is installed in the Library where students can avail the facilities. There are several Printers (Colour/B&W) in the Staff Room, Office Room, Computer Lab and some other departments.